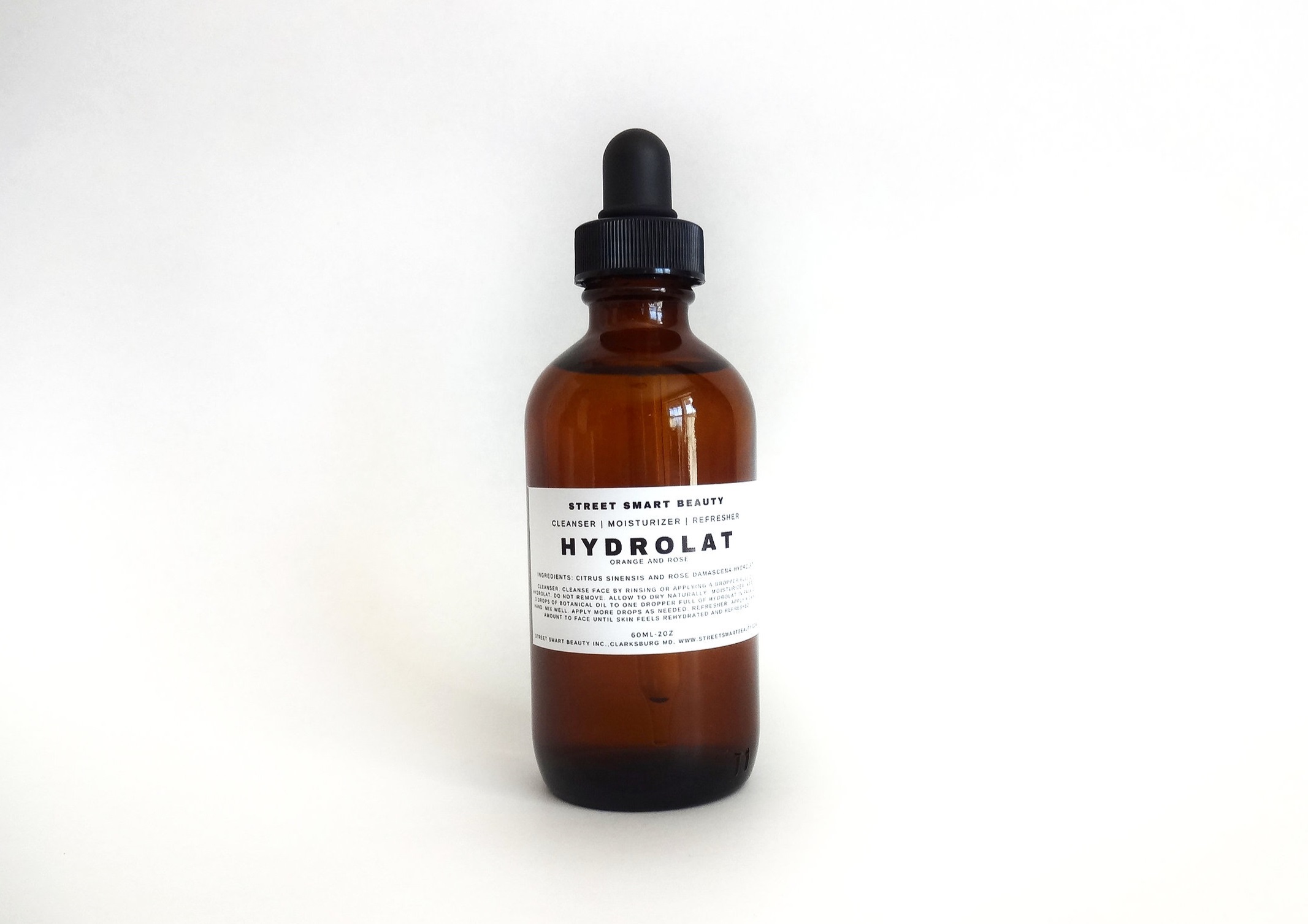 Hydrolat
Orange & Rose Hydrolat Blend Cleanser. Moisturizer. Refresher.
60ml bottle
Our hydrolat blend is naturally pH balanced and with ingredients selected based on their chemical constituents. This product is the cornerstone of our skin care collection. Skin loves to be cleansed, hydrated and moisturized. Our hydrolat works great as a quick no-rinse botanical cleanse, moisturizer (solo or by adding our botanical oil or moisturizer of your choice) and as a quick refreshing boost to the skin.
Ingredients: Organic Citrus Sinensis and Organic Rose Damascena hydrolat.
We like to think of hydrolats as the "light" version of essential oils. Naturally pH balanced to our own skin ( 4.5-5.5), hydrolats contain many of the same cicatrizant essential oil chemical constituents like esters and monoterpenols, but do not require dilution like their essential oil counterparts and can be applied directly to the skin. Monoperpenol what? Interested in learning more about essential oil chemical profiles? Join us for an SSB natural skin care and ingredient class!
Cleanser: Cleanse face using a dropper full of hydrolat and allow to dry naturally.
Moisturizer: Begin by applying 2-3 drops of botanical oil to one dropper full of hydrolat in palm of hand. Emulsify ingredients by rubbing hands together to blend ingredients . Once blended, apply to face. Add more drops of botanical oil or hydrolat as needed to support healthy moisturization levels.
Refresher: Apply a small amount to face until skin feels rehydrated and refreshed.
Recommended for external use ONLY! Keep out of reach of children and pets. Consult a certified healthcare professional if you are pregnant, undergoing medical treatment. Avoid putting products directly in eyes and other sensitive areas. If contact occurs rinse with water. This product is not intended to cure, treat or prevent any disease.
Store products in a cool dark place.
Statements have not been evaluated by the FDA.