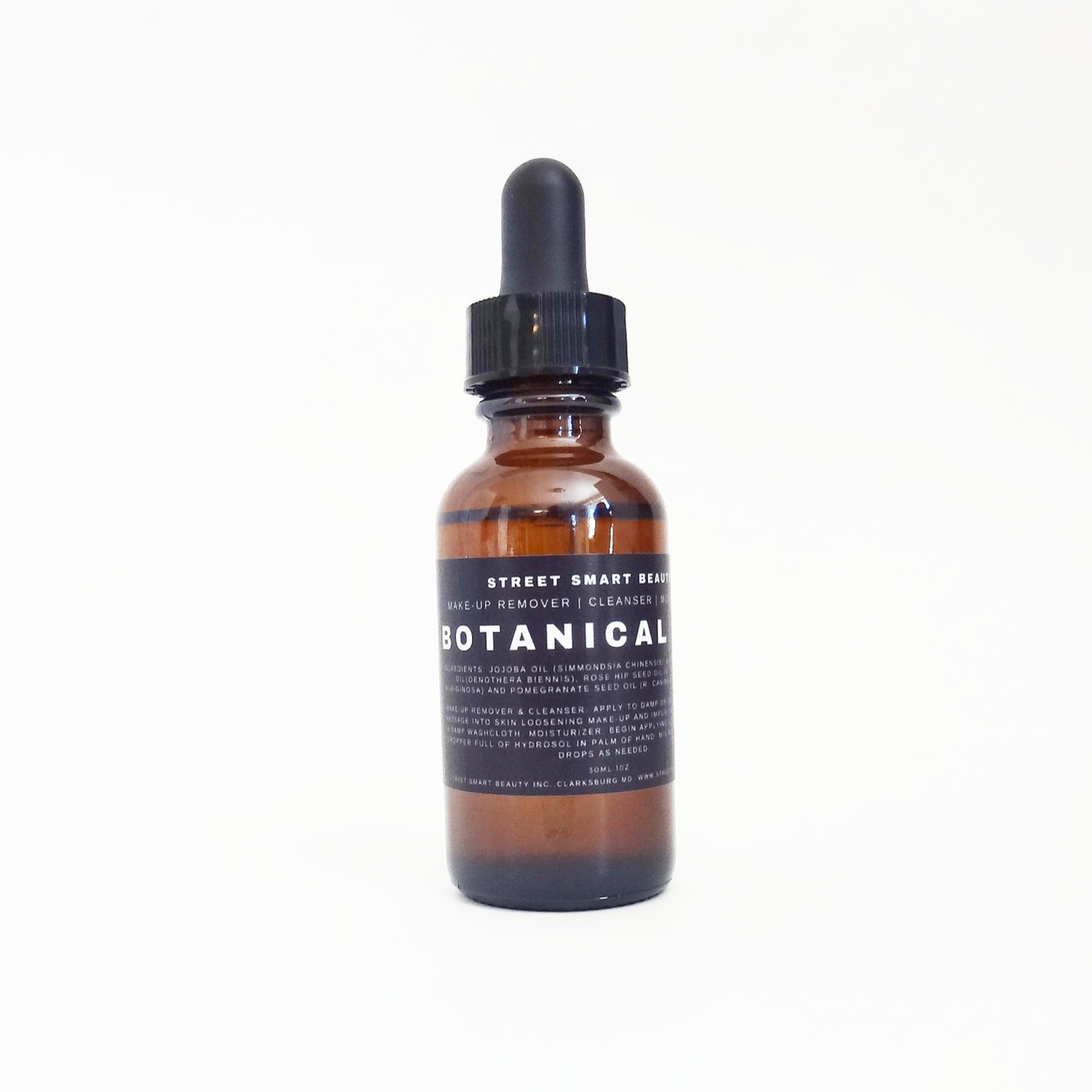 Botanical Oil
Make-Up Remover. Cleanser. Moisturizer.
30ml bottle
We're not supposed to have favorites, but this is it! This serum will get your skin through any beauty apocalypse or desert island scenario. Our botanical blend of goodness effectively removes make-up, dirt and impurities and provides an anti-oxidant rich moisturization boost to your skin.
Ingredients: Organic Jojoba oil (Simmondsia chinensis), Organic Evening Primrose Oil (Oenothera Biennis), Organic Rose Hip Seed Oil (R. Canina & R. Rubiginosa) and Organic Pomegranate Seed Oil (R. Canina & R. Rubiginosa)
Jojoba oil is naturally designed to have a molecular structure similar to our natural sebum (which we LOVE!), providing a non-occlusive moisture stability and photo protection when applied to the skin. These same moisturizing esters also create a perfect medium for use as a makeup remover and cleanser. Then in an attempt to improve on perfection, we added antioxidant-rich and botanical oils with 70% or more C18:2 and C18:3 fatty acid profiles. Not sure why all of that matters? Join us for an SSB natural skin care and ingredient class!
Make-up Remover and Cleanser: Apply to damp or dry face. Gently massage into skin loosening make-up and impurities. Remove with a warm damp washcloth.
Moisturizer: Begin by applying 2-3 drops of botanical oil to one dropper full of hydrolat in palm of hand. Emulsify ingredients by rubbing hands together to blend ingredients . Once blended, apply to face. Add more drops of botanical oil as needed to support healthy moisturization levels.
Recommended for external use ONLY! Keep out of reach of children and pets. Consult with a certified healthcare professional if you are pregnant or undergoing medical treatment. Avoid putting products directly in eyes and other sensitive areas. If contact occurs rinse with water. This product is not intended to cure, treat or prevent any disease.
Store products in a cool dark place.
Statements have not been evaluated by the FDA.